I love the interactions I have with our patients and staff. I truly enjoy getting to know different people and their personalities. I also love the process of transforming each patient's smile and seeing his or her personality blossom through that process.
I am a native of North Carolina, having been born in Burlington and spending my childhood in Charlotte. My family and I moved north and I later attended college at the University of Maryland, where I received a B.S. in Biology.
I went on to attend the Baltimore College of Dental Surgery where I received numerous honors and awards for both academic and clinical excellence. An elected member of the Omicron Kappa Upsilon national dental honor society and recipient of the American Association of Orthodontists Award, I graduated Magna Cum Laude with a Doctorate of Dental Surgery (DDS) in 1999.
Following graduation from dental school, I completed a general practice residency at the VA Hospital in Baltimore, Maryland. I then completed a two-and-a-half-year post-graduate residency in orthodontics at the Medical College of Georgia in Augusta, GA, where I received my certificate in orthodontics.
I am board certified by the American Board of Orthodontics, a distinction attained by fewer than 40% of orthodontists nationwide. My professional memberships include:
Raleigh-Wake County Dental Society
American Association of Orthodontists
Southern Association of Orthodontists
North Carolina Association of Orthodontists
Christian Medical and Dental Association
Christian Dental Association
Raleigh Chapter of the Seattle Study Club, orthodontic mentor
Former Fourth District President of the North Carolina Dental Society
I strive to stay on the cutting edge with patient care and changes in orthodontic technology by taking two to three times of the state licensing board's required number of continuing education hours. I enjoy the continued learning, as advances in technology have improved the practice of orthodontics tremendously. Super-elastic wires have increased efficiency and decreased patient discomfort. With newer appliances, such as mini-implants, we can now give patients results that were never before possible without surgery. It's exciting to be part of a dynamic, progressive practice!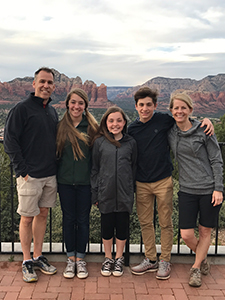 I routinely participate in dental mission trips to countries in Latin and South America, such as Mexico, Honduras, Nicaragua, Ecuador, and Guatemala. I recently went on a mission trip to Jordan. Closer to home, I volunteer for the Wake Smiles Dental Clinic in downtown Raleigh. I also serve as a deacon at Providence Baptist Church and help teach a Jobs for Life class there.
My wife Nancy and I are thrilled to be back in our home state. Nancy grew up in Brevard, NC and graduated from UNC. We are the proud parents of Will, Katie, and Emily, and we love spending time together as a family. My interests include golf, soccer, triathlons, and watching ACC basketball.